Der Waffle Haus is the unofficial meeting place for The Club.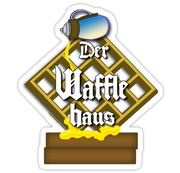 A German themed diner of average quality, where
Rube
meets with his subordinate Reapers over breakfast food to pass out reaping assignments, hold meetings, complete administrative tasks like personality assessments and other supervisory duties.  
Angus
the cook and
Kiffany
the waitress are common recurring characters who interact with the members of the club in various ways.
 In the opener of the film, the main characters, minus Rube, meet at the normal time to find the building burnt down, and Rube gone, replaced by the fast -talking and somewhat smarmy Cameron.
Ad blocker interference detected!
Wikia is a free-to-use site that makes money from advertising. We have a modified experience for viewers using ad blockers

Wikia is not accessible if you've made further modifications. Remove the custom ad blocker rule(s) and the page will load as expected.